Malafosse – Giraud, histoire d'un garage Citroën en Lozère
€22,95
FREE SHIPPING IN THE NETHERLANDS!
LOW RATES FOR OTHER COUNTRIES!
(Texte Français ci-dessus)
In 1922, Paul Malafosse signed his first contract to sell Citroën cars in his garage in Meyrueis, France. At the end of the 1920s, this faithful dealership was the base of the testing programme for the Croisière Jaune's halftracks. In the 1980s and 1990s this dealer sold so many cars that Citroën achieved the highest market penetration of France in this region.
Through the memories of the grandsons of the founder of the garage, and countless photographs and documents kept by the family over the years, author Matthieu Turel sketches the story of everyday life in a small Citroën garage in the heart of France's least populated department, the Lozère.
The book offers a great impression of France in the 20th century and outlines the social and societal developments that have radically changed the profession of garage owner over the past hundred years. Highly recommended for every car enthusiast.
Français
En 1922, Paul Malafosse signe avec Citroën son premier contrat pour vendre des véhicules de la marque dans son garage de Meyrueis. Un garage qui, à deux reprises à la fin des années 20, a accueilli des autochenilles pour des tests avant de s'élancer dans cette formidable expédition que fut la Croisière Jaune et qui a réalisé plusieurs fois dans les années 1980 et 1990 le meilleur taux de pénétration de France.
A travers le récit des deux petits-fils du fondateur et les innombrables photos et documents qui ont été conservés, Matthieu Turel, journaliste et amateur de la firme aux chevrons, nous plonge dans l'univers quotidien de cette concession familiale de province située en plein cœur du département le moins peuplé de France, la Lozère. Mais au-delà de son histoire, cette entreprise familiale presque centenaire met en lumière les transformations de la profession de garagiste, interface entre le constructeur et le client. Elle accompagne également les mutations économiques et sociétales que la région et plus largement la France ont traversées tout au long du XXème siècle et au début du XXIème. Hautement recommandé pour tout amateur de voitures.
Browse the book / Feuilletez le livre: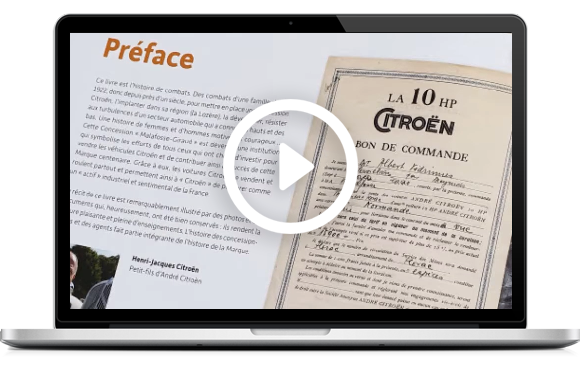 Language /Langue
FR
Author / Auteur
Matthieu Turel
ISBN
978-90-828147-6-7
Dimensions
16,7 x 24 cm, 128 pages
Finish / Finition
Full color, soft cover / Couleur, couverture souple
Testimonials and reviews / Avis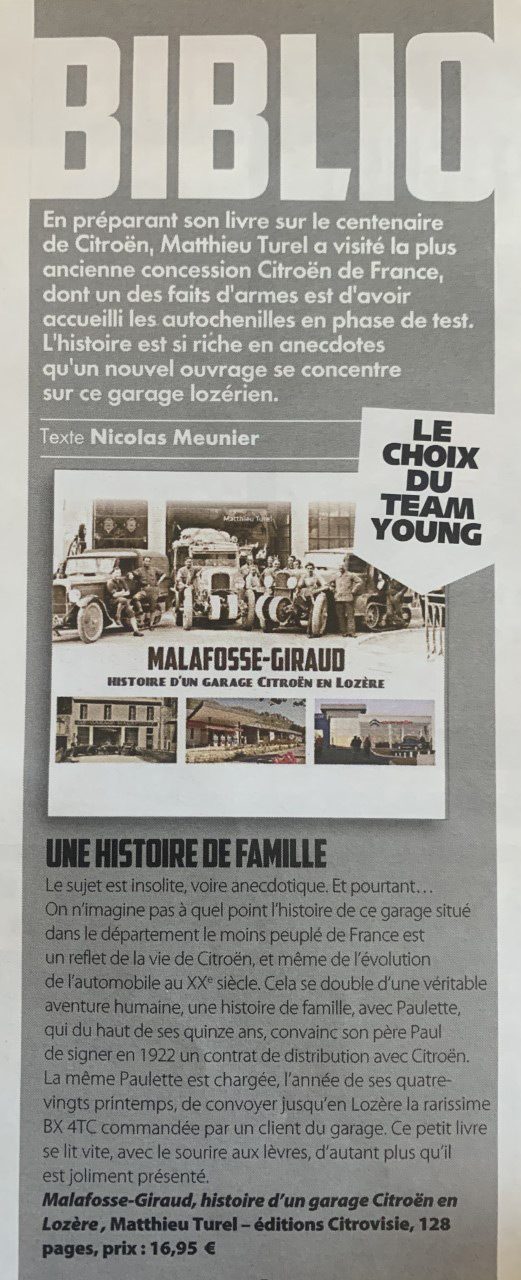 More reviews? Please, click here / Plus d'avis? Cliquez ici
FREE SHIPPING IN THE NETHERLANDS!
LOW RATES FOR OTHER COUNTRIES!