Les filles de forest
€34,95
FREE SHIPPING IN THE NETHERLANDS!
LOW RATES FOR OTHER COUNTRIES!
Special lighting, different wheel covers, larger bumpers, cut out rear fenders… The Citroëns built at the Belgian factory in Forest differ in many ways from the French-built models. Unfortunately the factory archives were not always well documented, so reconstructing the history of the cars produced in Forest was quite a puzzle. However with some original documents, interviews with people who worked in the factory, publications about the plant and analysis of some cars produced in Forest, more than enough information was found to fill this book.
'Les filles de Forest' describes the production and evolution of the two-cylinder cars built at Forest, from the first 2CV A in 1952 to the latest Visa in 1980, and all models in between, such as the Citroën Ami 6, the Dyane, the Méhari and the LN. Also more exotic vehicles like the Radar and Lohr are reviewed. Overviews of body colours, fabrics, production figures and chassis numbers by type and by year complete this 360 page thick book, along with hundreds of images, some of which have never been published before.
Title
Les filles de Forest – de in België geproduceerde tweecilinder Citroëns
Language
Dutch
Author
Vincent Beyaert
Contributions by Hugo Veldkamp
ISBN
978-90-815208-3-6
Dimensions
22 x 24 cm, 360 pages
Finish
Full colour, hard cover
Testimonials and reviews
Eine umfangreiche und ausführliche Darstellung dieses bisher weitgehend ungekannten Gebietes. Ein gut lesbarer Text. Viele interessante Abbildungen. Eine riesige Menge von Details. Eine ausgesprochene Fleißarbeit. Sehr viel und sehr gutes Buch zu einem günstigen Preis.

"Erg indrukwekkend! Complimenten voor dit stuk onbeschreven geschiedenis. Veel Citrofielen en Vlamingen zul je er een plezier mee doen."
Freddy Nieuwenhuize – Hoofdredacteur Klassiek & Techniek

"Wat een fantastische uitgave!"

"Wat een prachtig boek! Ik ben er echt heel blij mee en het is één van die schaarse boeken die echt iets toevoegen aan de Citroëngeschiedenis."

"Les Filles kan naadloos in het rijtje met het Visa-, Axel- en CXboek. Mijn complimenten!"

"Net als de boeken over de CX en de Axel een fantastisch werk!"

"Wanneer Uitgeverij Citrovisie een boek uitbrengt, zijn alle Citroën-liefhebbers vol aandacht. Inmiddels is een standaard voor nauwgezetheid, opmaak en afwerking bereikt die zijn weerga niet kent. Wat doen de Meisjes uit Vorst met die standaard? Ze leggen de lat nog een heel stuk hoger en zorgen zo voor een boek dat je niet mag missen."
Citroënforum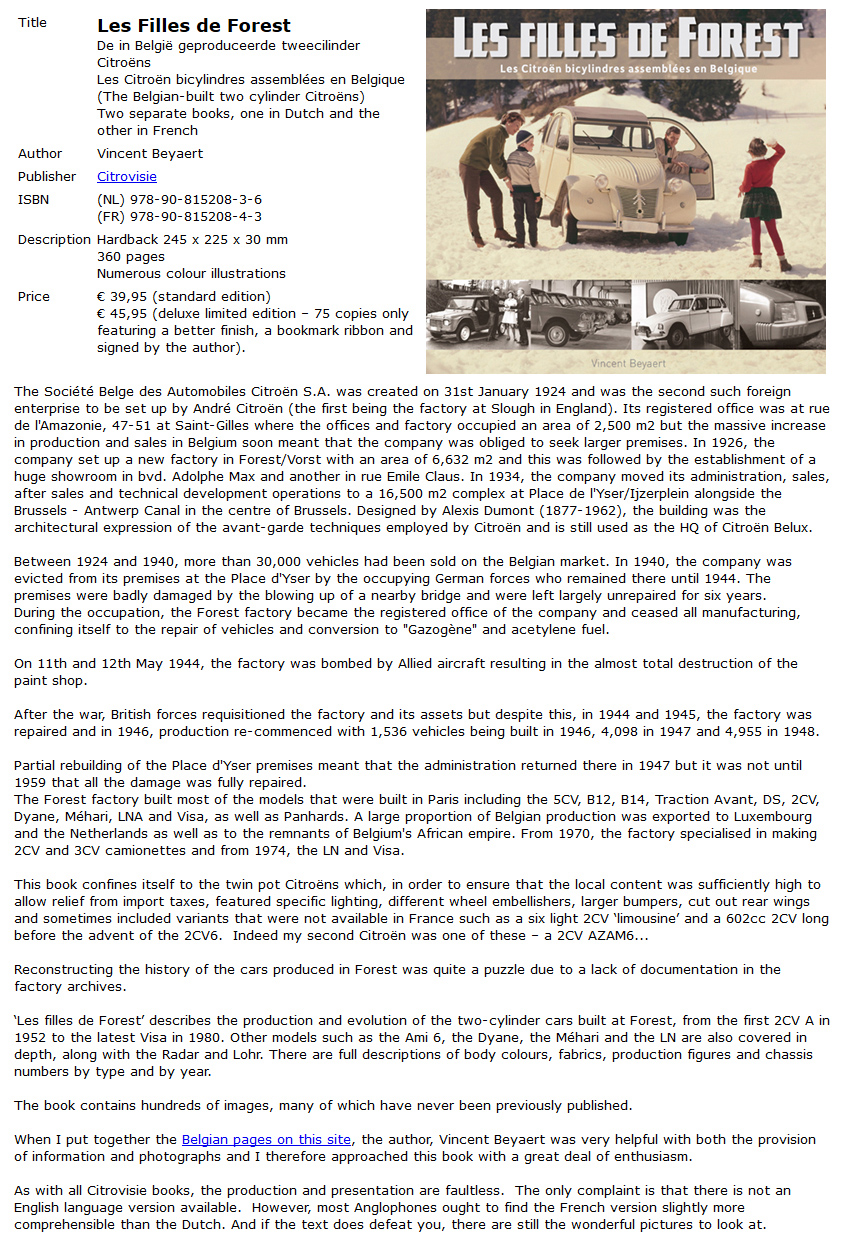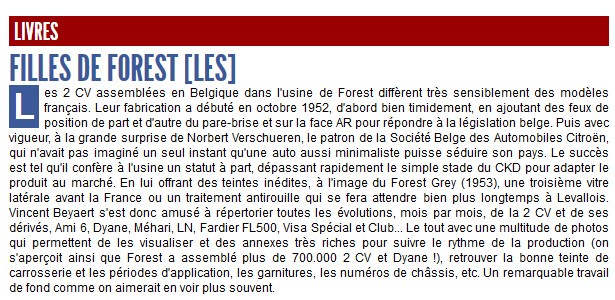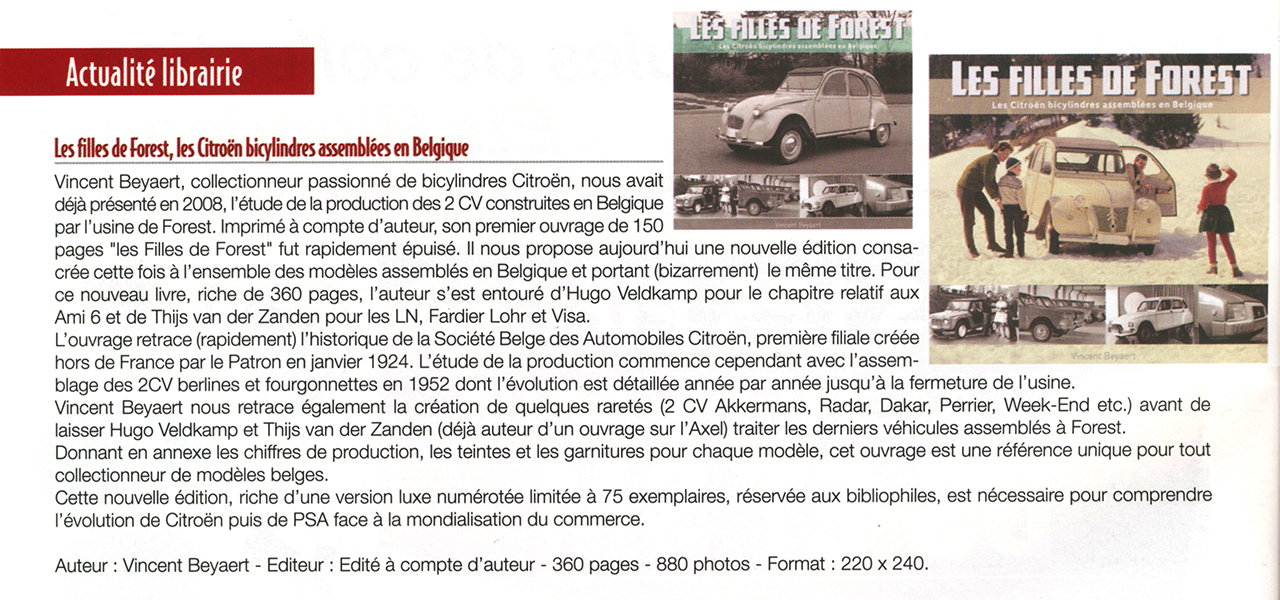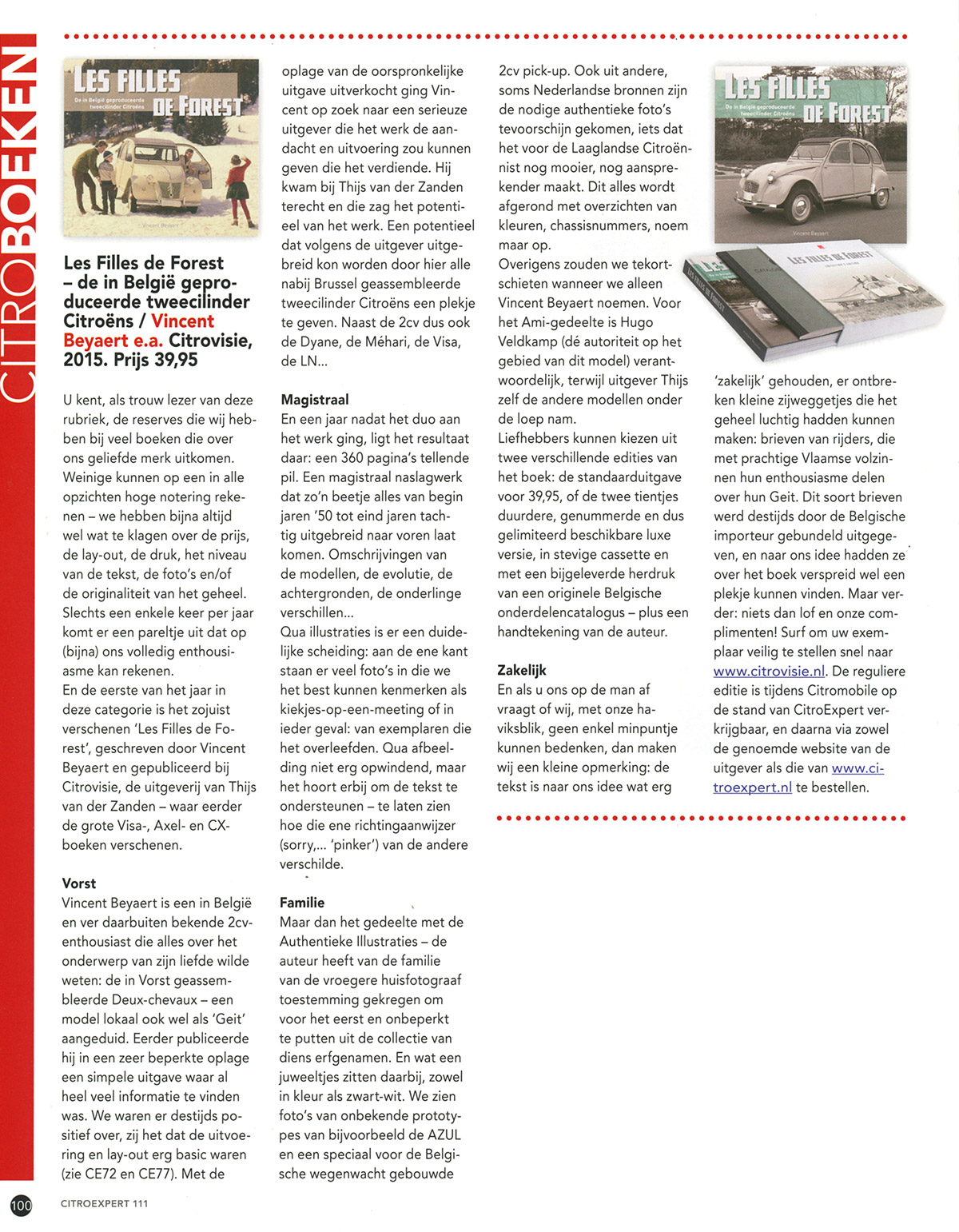 FREE SHIPPING IN THE NETHERLANDS!
LOW RATES FOR OTHER COUNTRIES!
Out of stock