La véritable histoire de la Citroën CX
€47,50
FREE SHIPPING IN THE NETHERLANDS!
LOW RATES FOR OTHER COUNTRIES!
FOR THE NEW ENGLISH VERSION, CLICK HERE
When the CX was introduced in 1974, it caused major financial problems for Citroën before eventually becoming a success – just like the Traction Avant forty years earlier. In 1934, tyre manufacturer (and major creditor) Michelin had to come to the rescue and help Citroën; forty years later it was competitor Peugeot who took over Citroën and formed the PSA group. Again forty years later, in 2014, CX experts Michael Buurma and Thijs van der Zanden of Citrovisie joined forces to create a unique CX-book. In an almost encyclopaedic manner, and with great attention to detail, the creation and evolution of the Citroën CX is discussed by model year, by type and down to the smallest detail. This also includes the models that never got beyond the drawing board: a five-door CX, numerous never realised interior designs, a CX GTi with a diesel engine and an extended CX Pallas, to name but a few… Overviews with technical data, chassis numbers, body colours plus sales figures complete the picture. The book is amply illustrated with hundreds of images, most of which have never been published before. This makes " La véritable histoire de la Citroën CX" an indispensable reference for the real Citroën lover.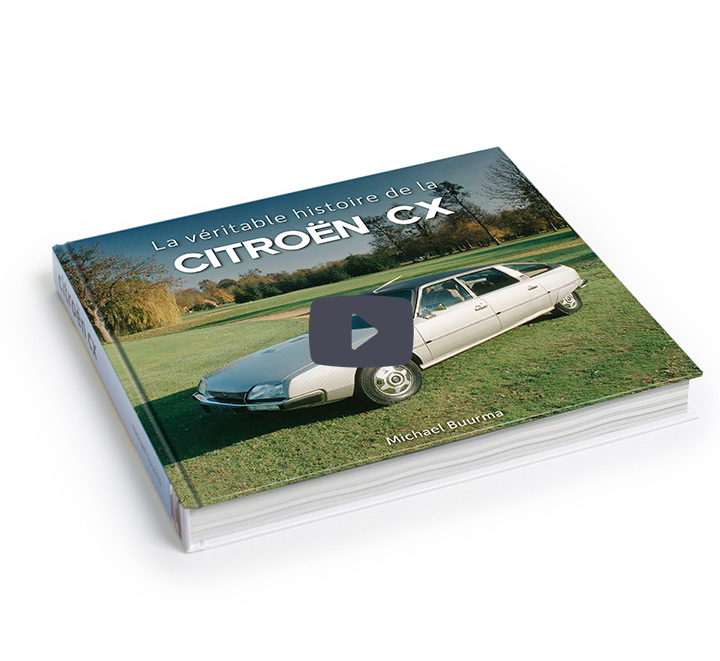 Language
French
Author
Michael Buurma
ISBN
978-90-828147-0-5
Dimensions
22 x 24 cm, 360 pages
Finish
full color, hard cover
Testimonials and reviews
"Je viens de recevoir le livre et je peux seulement dire: spectaculaire et insurpassable. Une bible authentique sur la CX."

"Vos livres sont passionnants, les photos suffisent car il y en a plein qui sont totalement nouvelles et exceptionelles."

"Quel beau livre, bien présenté, avec une collection formidable de photos, livre qui fait honneur à cette voiture notable qu'est la CX. Bravo et merci de promouvoir le nom Citroën, la technologie Citroën, la marque Citroën!"
Henri-Jacques Citroën

"You simply have got to buy this book. Absolutely wonderful and the attention to detail is just awesome."

"It's one of the best buys of this year. Next to my '75 CX 2200 of course."

"Congratulations for a great book. It is a proud addition to my library."
Carl Olsen, former chief designer at Citroën

"I can assure anyone who has even a small interest in this fabulous car that this is the best motoring book that I have ever seen. Really it is a must for all of us."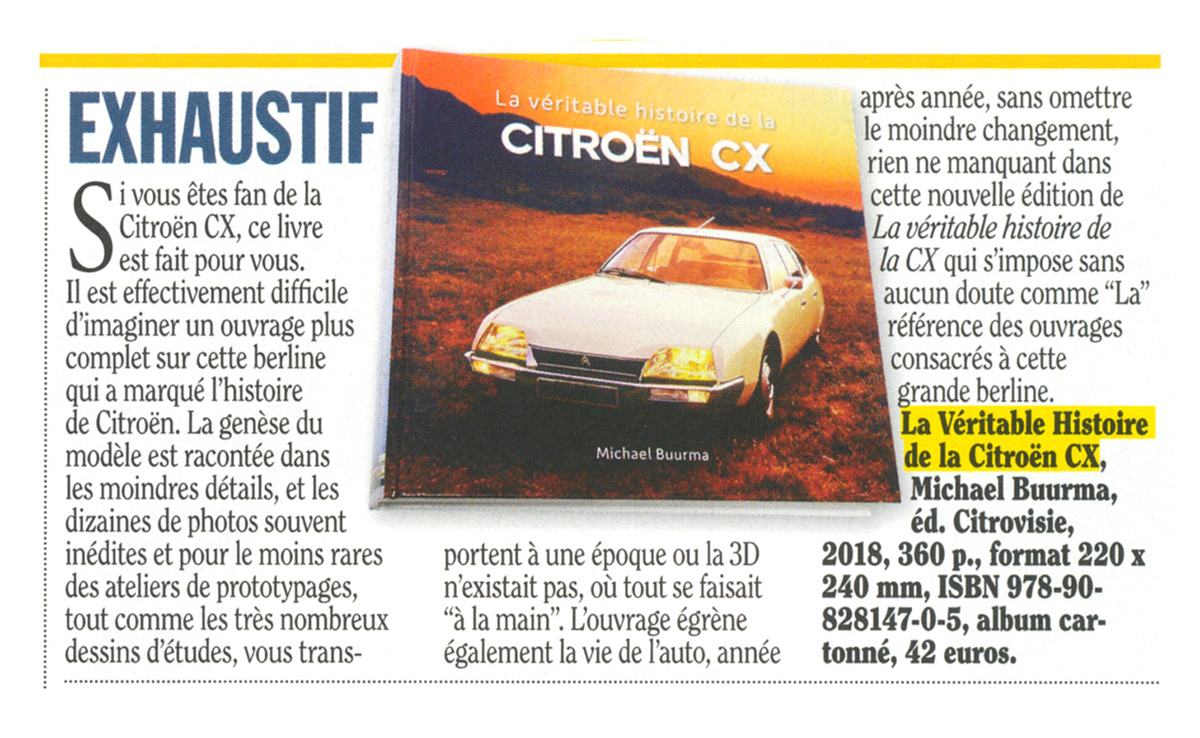 Gazoline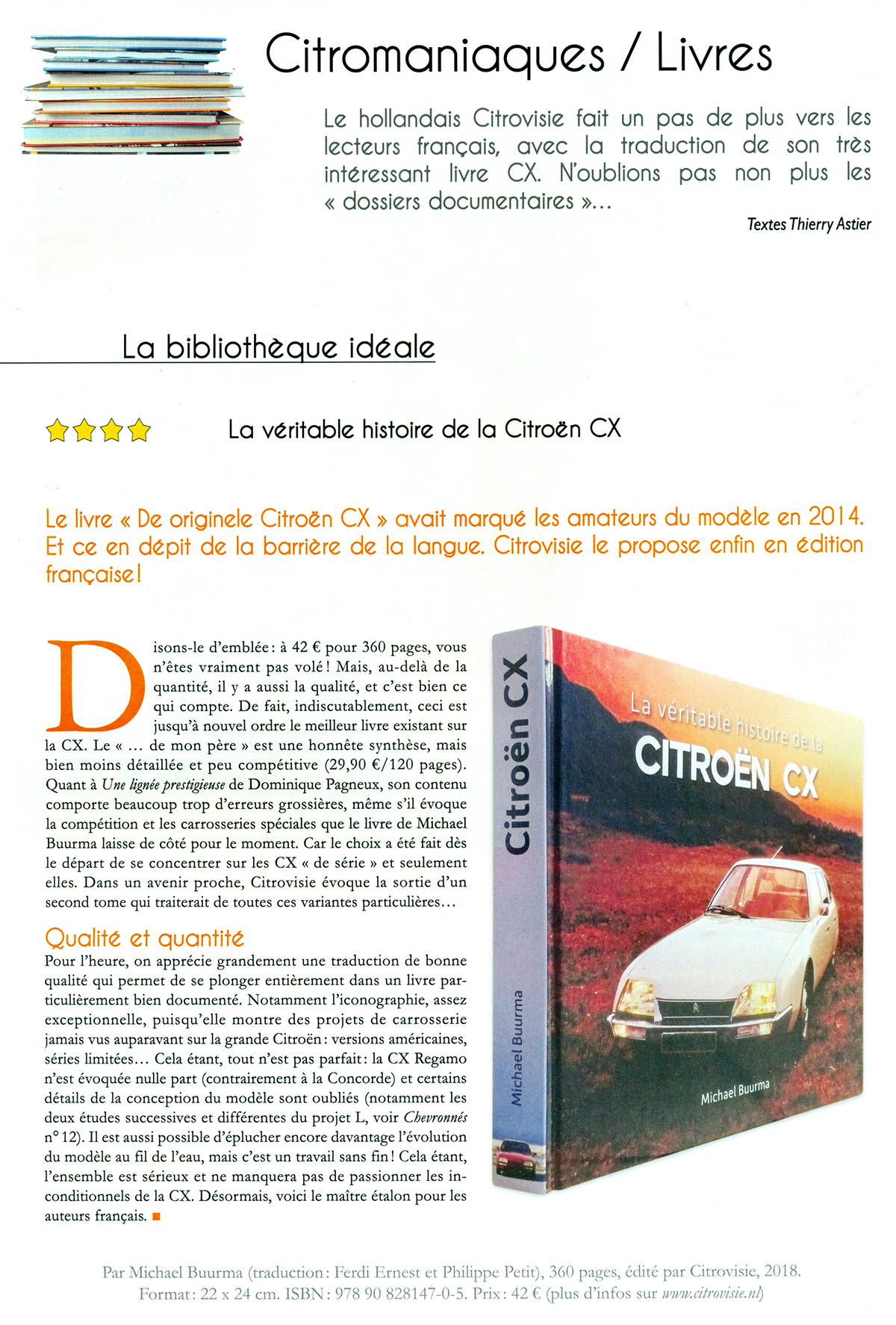 FREE SHIPPING IN THE NETHERLANDS!
LOW RATES FOR OTHER COUNTRIES!