Citroensap 2
€21,95
FREE SHIPPING IN THE NETHERLANDS!
LOW RATES FOR OTHER COUNTRIES!
Did you know that it is thanks to André Citroën that the Eiffel Tower is still in Paris? What was the connection between Citroën and East Germany? Who remembers the AX Xanthia? Did the designers of Citroën really copy a Pininfarina design? What were the Citroën M35 and C44 cars? Where does the name Pallas actually come from? How can you tell on which day your Citroën was produced? How Queen Elisabeth suffered car trouble in the middle of Paris in a Citroën? The story behind the floating Citroën showroom. Which Citroën can you only buy abroad? Were the Citroëns from the Belgian factory really better than those from France? How Chrysler was inspired by a forty-year-old Citroën 2CV. De Humo, a car owned by the Dutch Citroën importer. The Citroën of Prince Bernhard and Jacques Chirac. Just a random selection of subjects that are dealt with in this second part of Citroën Juice.
After the success of Citroensap part 1, author Thijs van der Zanden once again describes in this second part many remarkable events, forgotten facts and special models from Citroën's hundred years plus history. Essential reading for anyone looking for an original car book and a must for all Citroën drivers interested in the history of the marque.
Preview this book by clicking the image below.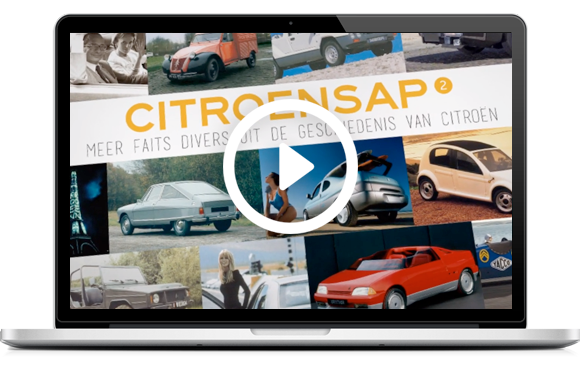 Title
Citroensap 2 – Meer faits divers uit de geschiedenis van Citroën
Language
Dutch (NL)
Author
Thijs van der Zanden
Publisher
Citrovisie (The Netherlands)
ISBN
978-90-828147-7-4
Dimensions
16,7 x 24 cm, 128 pages
Finish
Full color, soft cover
FREE SHIPPING IN THE NETHERLANDS!
LOW RATES FOR OTHER COUNTRIES!