Citroën XM
€44,95
FREE SHIPPING IN THE NETHERLANDS!
LOW RATES FOR OTHER COUNTRIES!
The Citroën XM had the near impossible task of following in the footsteps of three legends: the Traction, the DS and the CX. At first everything seemed fine: the sharply drawn, aerodynamic design was something really special and the XM was also full of technical innovations. It was the natural winner of the 'Car of the Year 1990' title.
The first customers however, experienced the downside of so much innovation: their XMs broke down with all kinds of faults. By the time Citroën had finally solved these problems, the XM's reputation had already been damaged so much that the car was doomed to a marginal existence.
In this book author Thijs van der Zanden tells the fascinating story behind the XM. From the first sketches and prototypes to the introduction of the first models and all the versions that Citroën added to the range over the years. The models that never got any further than the drawing board are also shown in this book. Memories and anecdotes from various parties involved enliven the story and the countless unpublished illustrations make this book a must for the real enthusiast.
Testimonials and reviews
Ein ganz tolles Buch, welches ich auch als deutschsprachiger super lesen läßt. Habe so viele neue Informationen zu meinem Xm erhalten. Die Auswahl der Fotos ist gelungen. Dieses Buch ist sehr zu empfehlen, es ist die neue Biebel zum Citroen XM!!!, vielen Dank für die schnelle Lieferung und den erstklassigen Service. Gerne wieder und by the way, zum erlernen der Holländischen Sprache auch bestens zu empfehlen.

Wat een prachtig boek is het geworden! En dan denk je, dat je heel veel over de XM weet…, tot de dag, dat het boek bezorgt wordt. Zoveel nieuws gezien…, nu nog even de tijd vinden, om alles te lezen.

Complimenten, heerlijk boek. Je plaatst ze prachtig in de tijdsgeest. En inderdaad wakkert dit de wens naar opnieuw een XM aan.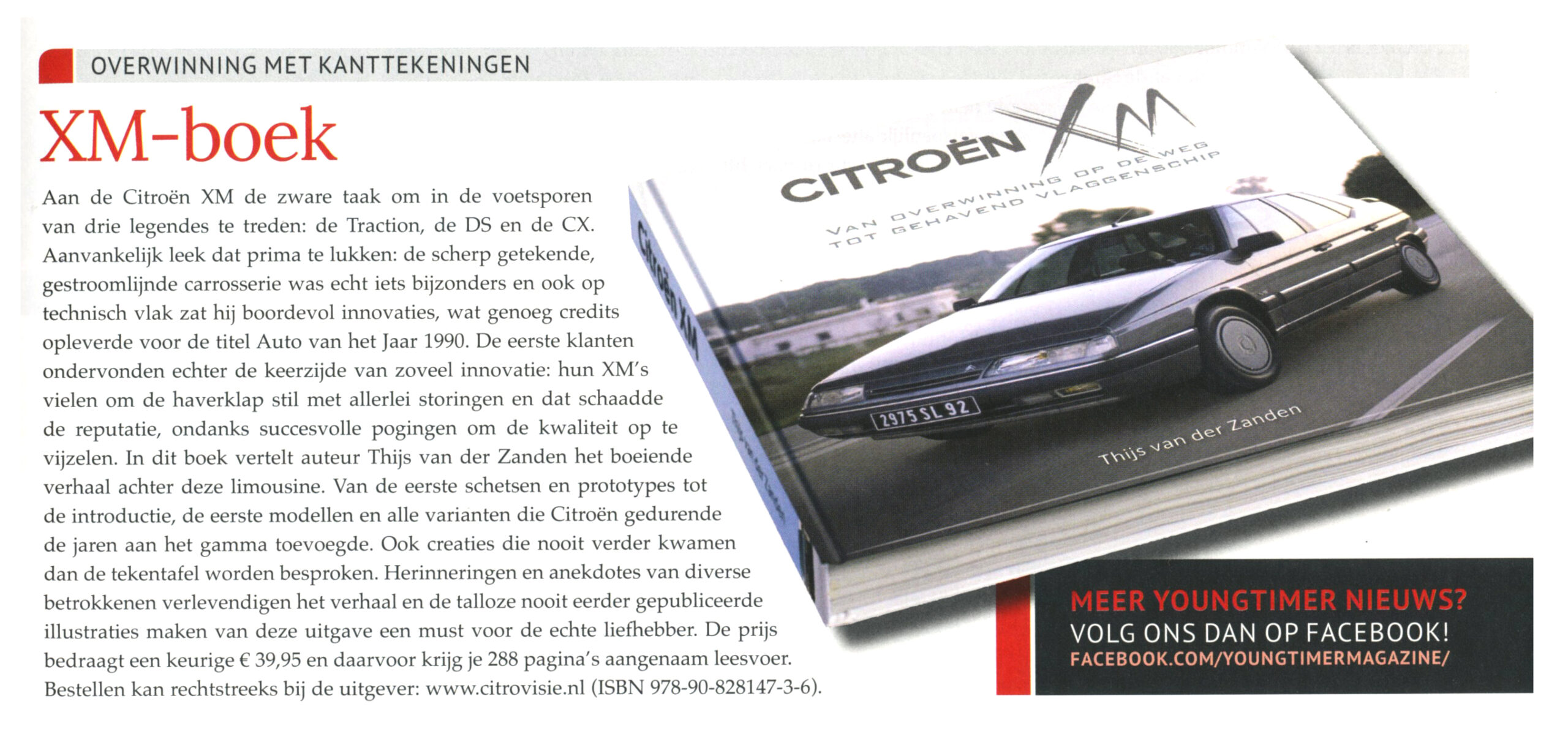 More reviews? Click here
Title
Citroën XM – Van overwinning op de weg tot gehavend vlaggenschip
Language
Dutch
Author
Thijs van der Zanden
ISBN
978-90-828147-3-6
Dimensions
22 x 24 cm, 288 pages
Finish
Full color, hard cover
FREE SHIPPING IN THE NETHERLANDS!
LOW RATES FOR OTHER COUNTRIES!
Out of stock