Citroën GS & GSA – Citroën's avant-garde mid-range cars
€47,50
FREE SHIPPING IN THE NETHERLANDS!
LOW RATES FOR OTHER COUNTRIES!
Citroën was late with a mid-range model. The competition had had models in this segment for a long time, but when Citroën presented the GS in August 1970 with its streamlined design, fantastic suspension, avant-garde dashboard and spacious boot, it immediately set a new standard in its class. Admittedly, there were some weaknesses, but despite this, the car represented a particularly well-balanced whole. Citroën rapidly expanded the GS range with an estate car and the practical Service van. The top model was the Birotor, a GS with a Wankel rotary engine. In September 1979, the GS was succeeded by the GSA, a thoroughly modernised car and now with the addition of a long-awaited fifth door. In mid-1986, after sixteen years of successful production, the final GSA left the factory.
In this book author Marc Stabèl describes the history of the Citroën GS and GSA. Through numerous facts and additional photos, some of which have never been published before, the development, background and historical context are explained extensively, as well as the evolution of all types from year to year. Building on the book's success when originally published in Dutch in 2016, this updated and expanded (24 pages extra!) English version is the essential reference work for the real enthusiast.
Language
English
Author
Marc Stabèl
Publisher
Citrovisie (The Netherlands)
ISBN
978-90-828147-2-9
Dimensions
22 x 24 cm, 276 pages
Finish
Full color, hard cover
Testimonials and reviews
The magnificent book has arrived! It will be a pleasure to spend some evenings enjoying it!

J'ai commandé votre livre et je tenais à vous féliciter pour ce remarquable ouvrage. Passionné par la GS, je n'ai jamais vu tous ces documents inédits: bravo! J'ai vivement recommandé l'achat de votre livre aux membres de notre Club.

Félicitations pour ce très beau livre avec beaucoup d'images inédites. Il ne me reste plus qu'à apprendre le Néerlandais pour l'apprécier complètement.

Total toll!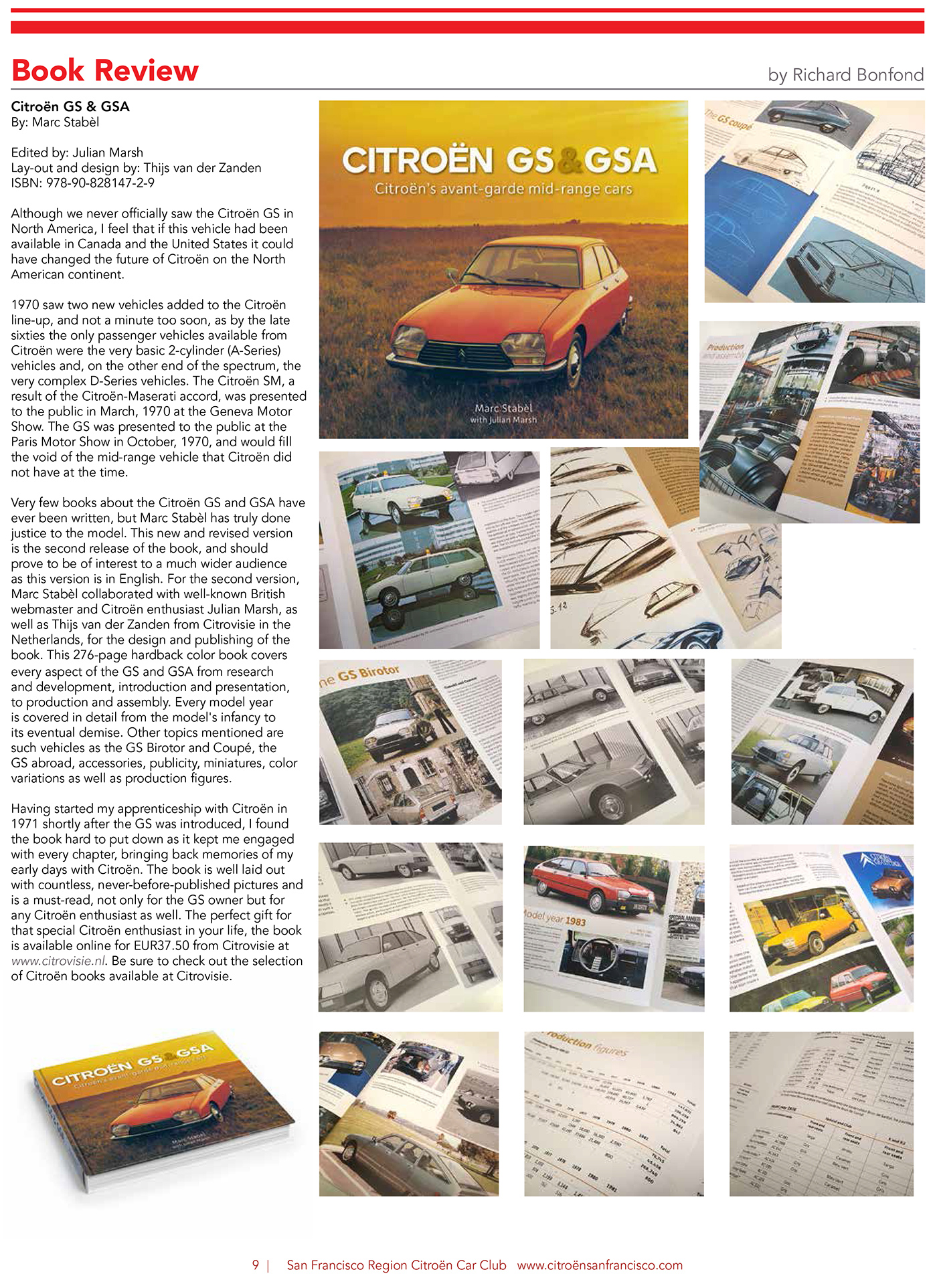 FREE SHIPPING IN THE NETHERLANDS!
LOW RATES FOR OTHER COUNTRIES!